Zanzibar is an amazing home for beach tours and holidays in the whole of East Africa. It is marvelous to vacate some of the best African beaches on the famous Zanzibar Archipelago. The ambiance at these calm white sand palm beaches smells only of peace and tranquillity. Most interesting is that the various beach hotels and lodges are internationally standardized. You will find all categories of accommodation to suit your lifestyle from upscale luxury, and average luxury to budget and cheap but decent lodgings. You can also visit the neighboring Mafia Archipelago with a more tranquil ambiance offering you private small intimate lodgings. You will get high value at Mafia if you desire to have a personalized serene vacation possibly with only your loved one on isolated sandbars surrounded by shallow coral seas.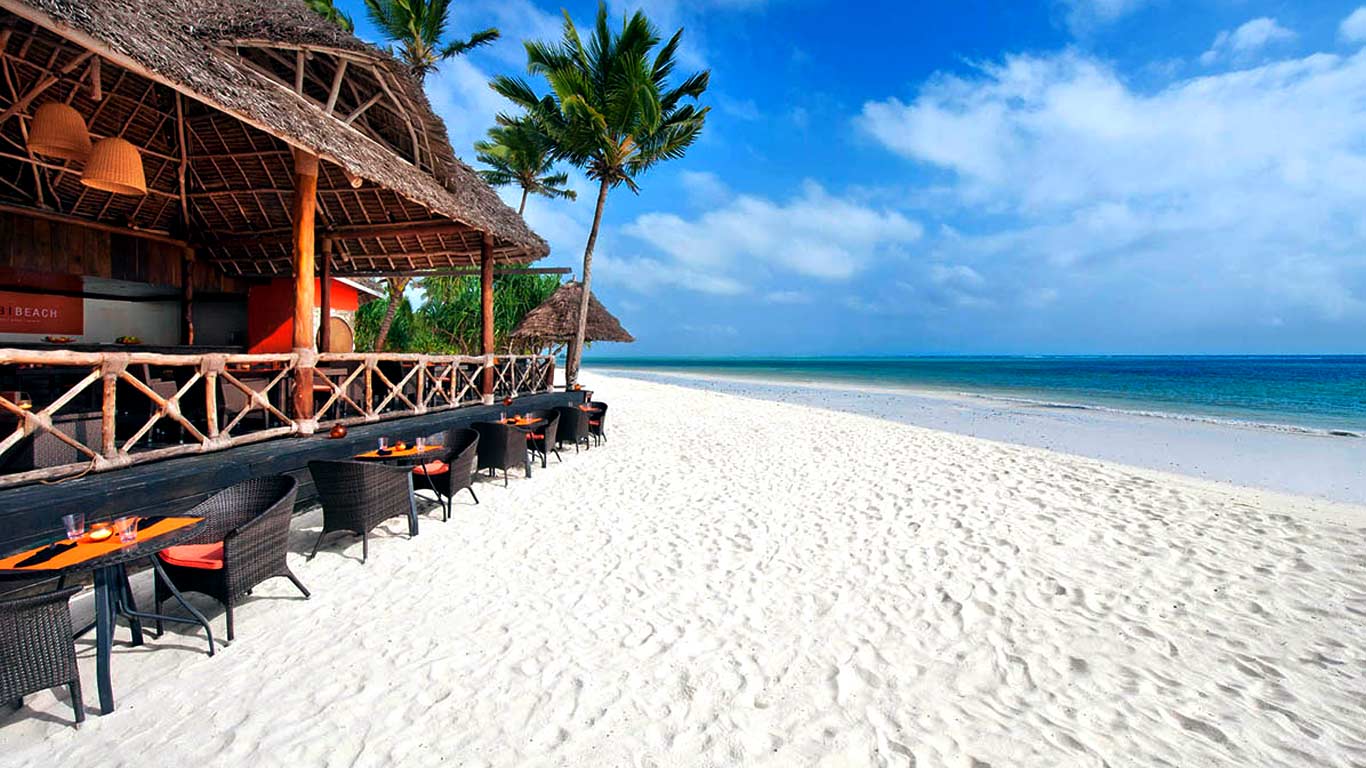 Zanzibar is an exotic land. This 'spice island' is a tropical idyll true to its reputation. Zanzibar town is filled with old historic buildings, and to prove it there is a story behind each one. At the heart of Zanzibar is the fascinating Stone Town where time has seemingly stood still. The island is dotted with several ruins from the turbulent times past. During harvest season between, July and December, the air hangs thick with the scent of clove. Along the east coast, there are endless beautiful beaches and inviting aquamarine water
Prison/Changuu Island
This island is approximately half a mile long and one-eighth of a mile wide and was formerly owned by an Arab and used as a private place of detention for recalcitrant slaves. General Mathews bought it and the Gaul, which still stands, was built in 1893, as a central prison for Zanzibar. It was however never utilized as such. It also housed the infectious disease hospital for Zanzibar. There are many large tortoises here, some of them over 3ft in diameter. Excellent bathing may be had from the shore facing the Town, which is a favorite resort for picnic parties.
Spice Island
The Spice island of Zanzibar lies off the coast of Tanzania in the Indian Ocean. It is famous for once being the commercial center of East Africa and the last place to abolish the slave trade. Today it combines ancient Islamic ruins, and noble Arabic houses with miles of white sandy palm-fringed beaches, and coves. The ocean offers warm clear blue waters, idyllic islands excellent reefs for snorkeling and diving, fantastic deep sea fishing, water sports, and of course delicious fresh fish. And if you thought that wasn't enough, visiting the Spice plantations (cloves, cinnamon, nutmeg, vanilla, cardamom, and others) or haggling for carvings in the Central Market is great fun too.
Mnemba Island
Mnemba island lies 15 minutes by boat from the Northeast coast of Zanzibar, protected by a lagoon with over 10 miles of reefs rich in colorful fish and corals.
Mnarani Beach
Mnarani is based on the northern tip of Zanzibar Island right in the heart of the village of Nungwi. ?Mnarani? means lighthouse in Swahili and here on the eastern ridge of the village, you will find the oldest lighthouse in Zanzibar, built-in 1886 and still in operation today.
Stone Town
It may not have a particularly romantic name, but Stone Town is the old city and cultural heart of Zanzibar, little changed in the last 200 years. It is a place of winding alleys, bustling bazaars, mosques, and grand Arab houses whose original owners vied with each other over the extravagance of their dwellings. This one-upmanship is particularly reflected in the brass-studded, carved, wooden doors – there are more than 500 different examples of this handiwork. You can spend many idle hours and days just wandering through the fascinating labyrinth of narrow streets and alleyways.
Pemba Island
Pemba was known by Arab sailors as El Huthera in ancient times, meaning "the Green", on account of its dense and lush vegetation. Lying 30 minutes north of Zanzibar by light aircraft, the island is remote and still relatively unknown. In contrast to Zanzibar, which has become increasingly popular in recent years, Pemba still receives very few foreign holiday visitors.
Chumbe Island
The lighthouse on this Island, which is eight miles from Zanzibar and opposite Chukwani, was erected in 1990 and now contains an automatic light. There is a mosque near the lighthouse; Ships proceeding to Dar-es-Salaam pass close on the port bow.
The Island has been developed into a Nature Reserve and harbors one of the most spectacular coral gardens in the world and comprises Chumbe Reef Sanctuary – and boasts of 7 Eco-Bungalows en-suite with solar-powered halogen lights, blends perfectly with the surrounding nature and situated between the beach and the forest.
Kilimanjaro National Park