5 Days Serengeti Migration Safari | Lodge Safari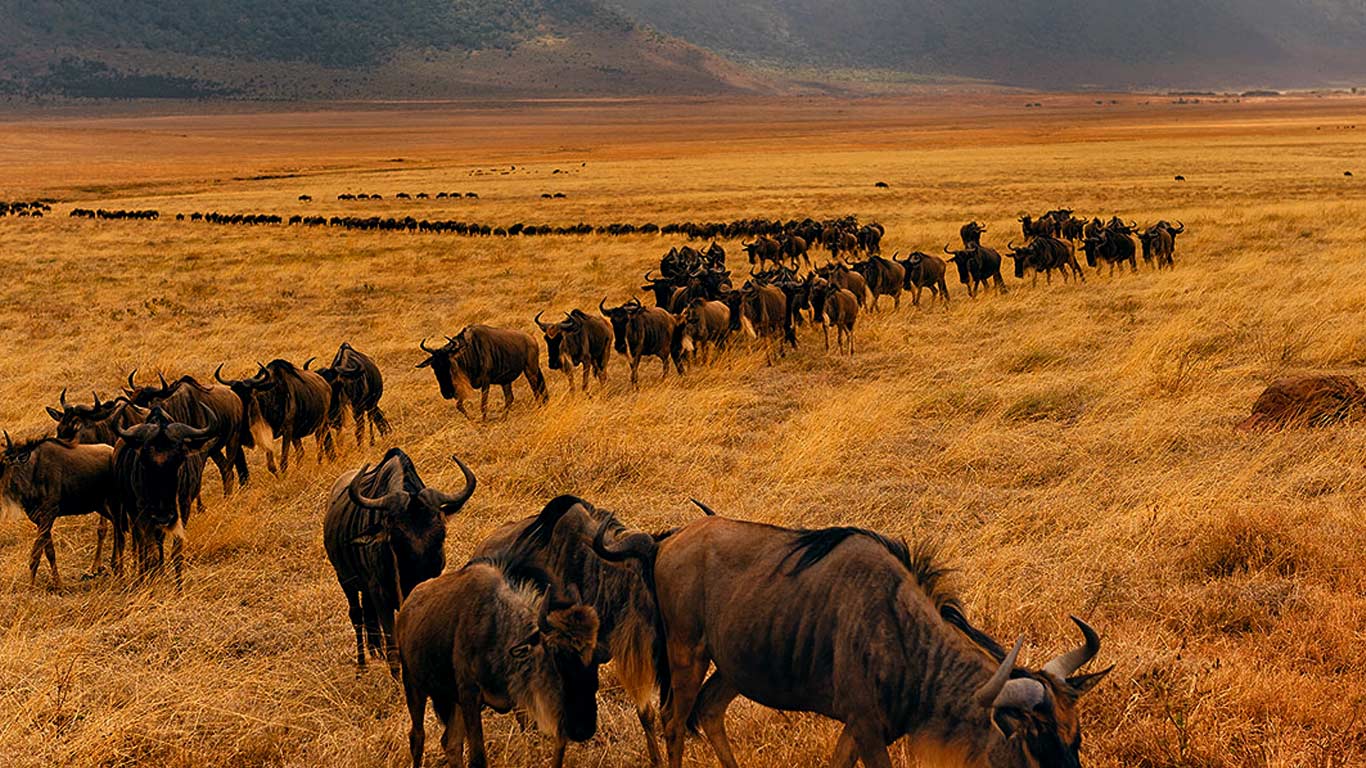 5 Days Serengeti Migration Safari Visit Tanzania's largest and most famous National Park with the wildebeest migration expected in December and May, Tree climbing lions and birdlife in Manyara, and finally a tour to the worlds most-visited destination (Ngorongoro) famous for high wildlife concentration and breathtaking sceneries.
Day 01: Arusha – Lake Manyara
Day 02: Lake Manyara – Serengeti national park
Day 03: Serengeti Full day
Day 04: Serengeti – Ngorongoro Crater
Day 05: Ngorongoro – Arusha
Day 01: Arusha – Lake Manyara
Depart Arusha in the morning for Lake Manyara, afternoon game drive, The Lake Manyara National park is serene and beautiful with main attractions of a rich bird life, tree-climbing lions, its elephants, and hippos that you can see at closer range than most other places. Lake Manyara is an alkaline lake and at certain times of the year hosts thousands of flamingos and a diversity of other bird life.Although it is one of the smallest parks, its vegetation is so diverse enabling it to host a variety of wildlife habitats.dinner and overnight at Campsite / Logde.
Day 02: Lake Manyara – Serengeti national park
Depart for Serengeti passing through Olduvai Gorge, the site of the Leakey family discovery of fossils of human and animal ancestors dating back to almost two million years.The Serengeti National Park is a large national park in Serengeti area, Tanzania. It is most famous for its annual migration of over one and a half million white bearded wildebeest and 250,000 zebra. Meals and overnight at Campsite / Logde.
Day 03: Serengeti Full day
After breakfast full day in Serengeti plains, search for wild game you might have missed the previous game drives. Morning and afternoon game drives. Serengeti is easily Tanzania's most famous national park, and it's also the largest, at 14,763 square kilometers of protected area that borders Kenya's Masai Mara Game Park It is the Migration for which Serengeti is perhaps most famous. Over a million wildebeest and about 200,000 zebras flow south from the northern hills to the southern plains for the short rains every October and November, and then swirl west and north after the long rains in April, May and June. So strong is the ancient instinct to move that no drought, gorge or crocodile infested river can hold them back. The Wildebeest travel through a variety of parks, reserves and protected areas and through a variety of habitat. Join us to explore the different forms of vegetation and landscapes of the Serengeti ecosystem and meet some of their most fascinating inhabitants .Meals and overnight at at Campsite / Logde.
Day 04: Serengeti – Ngorongoro Crater
After breakfast drive to Ngorongoro Crater where a 4-wheel drive vehicle will take you 2000ft down to the crater, enjoy picnic lunch at the crater. The Ngorongoro crater is the world's biggest whole volcanic caldera at 8300 sq km and is arguably the most stunning arena. It is frequently described as one of the wonders of the world, not only because of its geological magnificence, but also because it serves as an extraordinary natural sanctuary for some of Africa's largest populations of large mammals. Ngorongoro and other freestanding mountains are volcanic in origin, formed during the fracturing process that created the Rift valley 15 to 20 million years ago. When it peaked in size 3 million years ago it was a similar height to Mt. Kilimanjaro today. Overnight at Campsite / Logde.
Day 05: Ngorongoro – Arusha
After breakfast depart for Arusha,with last minute shopping en route, arrive for lunch after lunch you will be drop of to Kilimanjaro International airport for your flight home or Zanzibar. where the safari ends.
Price will Include
---
 All Park fees

All activities (unless labeled as optional)
All accommodations as stated in the itinerary
A professional driver/guide
All transportation (unless labeled as optional)
All Meals (as specified in the day-by-day section)
Price Will not Include
---
International flights (from/to home)
Additional accommodation before and at the end of the tour
Tips (tipping guideline US$20.00 pp per day)
Personal items (souvenirs, travel insurance, visa fees, etc.)
Services not mentioned in the program
Travel insurance and medical repatriation
Items of a personal nature
Design your own trip.

We are rated  5/5 on 36 Reviews on TripAdvisor

We are rated 5/5 on  74 Reviews on SafariBookings
Tour ideas to get you dreaming
Featured Tanzania Safari Packages
North Serengeti Migration
8 Days North Serengeti Migration