3 Days Safari from Zanzibar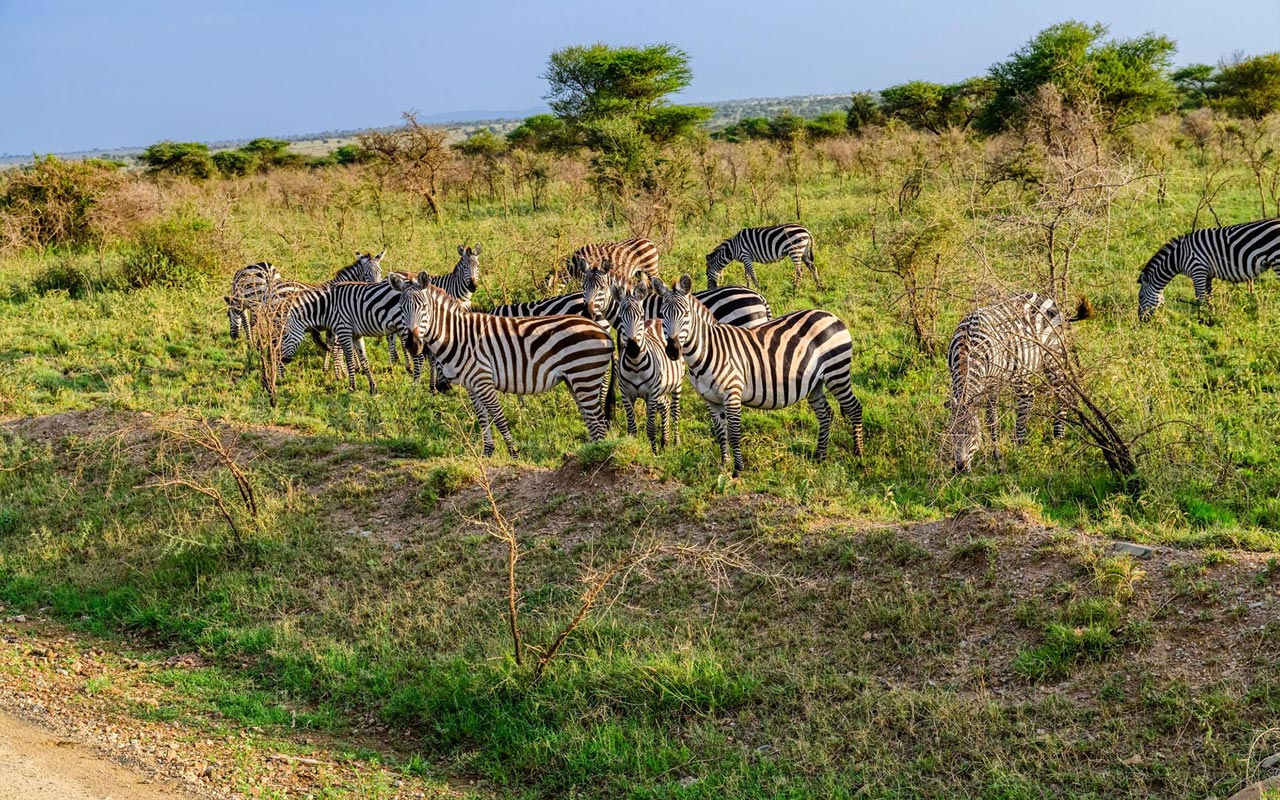 This is a tour will start from Zanzibar airport and will end in Zanzibar airport. The tour will start from Zanzibar where you will have a morning flight to Arusha Airport in Arusha, then you will start your safari to Tarangire National Park and second day you will do Ngorongoro Crater and third day Lake Manyara and later you will take evening flight to Zanzibar all flight from Zanzibar to Arusha and back to Zanzibar will be included.
DAY 1 – ZANZIBAR – ARUSHA – TARANGIRE NATIONAL PARK
DAY 2 – NGORONGORO CRATER GAME DRIVE
DAY : 3 LAKE MANYARA NATIONAL PARK – ARUSHA – ZANZIBAR
DAY 1 – ZANZIBAR – ARUSHA – TARANGIRE NATIONAL PARK
Morning flight Zanzibar – Arusha Airport – 8:00 – 9:15. Transfer to Tarangire National Park
You'll depart from Arusha after breakfast for the approximately two-hour drive to Tarangire National Park. Along the way, you'll pass bustling Masai villages and the vast, open plains that have become synonymous with images of Africa.
Once you've entered Tarangire, you'll begin your game drive across a rich vista of endless golden savannah that surrounds the Tarangire River. The river itself runs throughout the year and is a vital source of water for the animals of the region during the dry season. Lined with acacia and Baobab trees, the river is regularly visited by the park's large elephant population as well as other herbivores such as zebras and antelopes.
A picnic lunch with a view of the river is a great way to take it all in, but you'll have to keep on your toes as the local monkey population does its best to separate you from your lunch!
Driving through the park you'll also have the opportunity to see lions, leopards, cape buffalo, and a huge variety of antelopes. If you're particularly lucky, you might even see endangered animals such as the Greater Kudu or the Fringe-Eared Oryx.
After your day's drive is done, you'll retire to your accommodation for the evening.
DAY 2 – NGORONGORO CRATER GAME DRIVE
After breakfast, you'll depart for Ngorongoro Crater; sometimes considered as the 8th Wonder of the World.
Home to over 120 species of mammal including the fabled Big Five, the Ngorongoro Conservation Area is one of the most sought-after safari destinations in the world. It's a particularly good place to see the endangered black rhinoceros enjoying a lonely meal out on the grass plains, as well as a place to see large numbers of hippopotami enjoying the cool water.
From the comfort of your open-top vehicle, you'll be able to observe and photograph some of Africa's most recognizable faces. The crater is home to a large number of predators including lions, leopards, cheetahs, jackals, and hyenas, as well as a large population of wildebeest, zebras, antelope, cape buffalo, and more. It is truly one of Africa's premier safari destinations.
After the thrills and excitement of the day, you will have a picnic lunch by the park's famous hippo pool. Thereafter, you will drive back to the hotel overnight.
DAY : 3 LAKE MANYARA NATIONAL PARK – ARUSHA – ZANZIBAR
Today after breakfast, you will be picked up by your safari guide and drive to Lake Manyara National Park. For a game drive. Later on, you will drive back to Arusha and proceed to Kilimanjaro International airport for your flight to Zanzibar
Lake Manyara is a beautiful little park that is famous for its tree-climbing lions, elephants, and large troops of baboons. The park is home to an amazing variety of birds and animals considering its small size. A short visit to this serene park will greatly diversify your safari experience as the lush green jungle habitat is in stark contrast to the other parks you will visit during your safari.
Price will Include
---
 All Park fees

All activities (unless labeled as optional)
All accommodations as stated in the itinerary
A professional driver/guide
All transportation (unless labeled as optional)
All Meals (as specified in the day-by-day section)
Price Will not Include
---
International flights (from/to home)
Additional accommodation before and at the end of the tour
Tips (tipping guideline US$20.00 pp per day)
Personal items (souvenirs, travel insurance, visa fees, etc.)
Services not mentioned in the program
Travel insurance and medical repatriation
Items of a personal nature
Design your own trip.

We are rated  5/5 on 36 Reviews on TripAdvisor

We are rated 5/5 on  74 Reviews on SafariBookings
Tour ideas to get you dreaming
Featured Tanzania Safari Packages
North Serengeti Migration
8 Days North Serengeti Migration