10 Days Serengeti Wildebeest Migration Safari
Be captivated by extraordinary game viewing and quintessential Tanzania landscapes on this safari through Tanzania.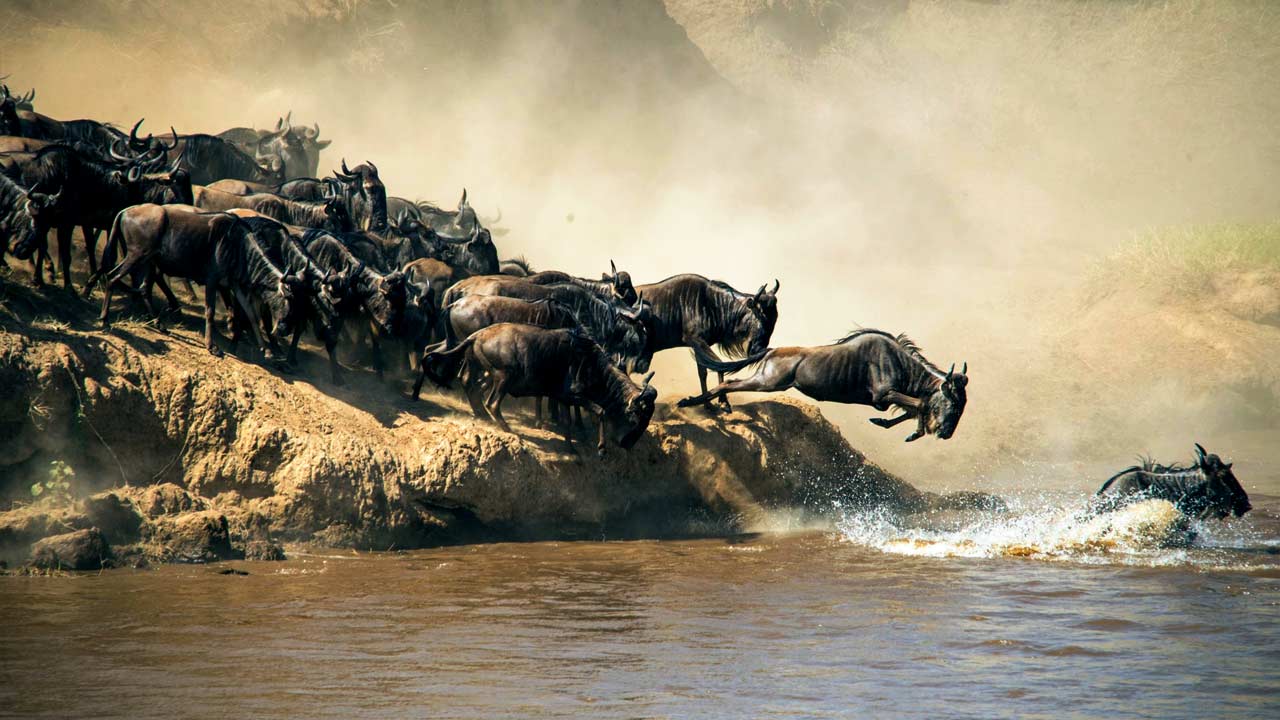 The Serengeti Wildebeests Migration is the natural wonders with over two million wildebeests, zebras, and antelope traveling over 450 miles across the plain to ensure their survival, unaware that there's danger presented by the stalking lions and cheetahs among other predators of the wildlife. Witness huge crocodiles of the Mara River as they wait for the herbivorous to cross the swollen Mara River and enter into Masai Mara Game Reserve from Serengeti National Park.
The wildebeest migration river crossing in August moves north, passing through the Lobo area (north of Central Serengeti National Park) and the Wagakuria area (remote northern Serengeti National Park along the Mara River) en-route to Kenya's Masai Mara Game Reserve.
Day 1: Arusha – Lake Manyara
Day 2-6: Serengeti National Park
Day 7&8: Ngorongoro Crater
Day 9: Tarangire National Park
Day 01: Arrival – Arusha
Arrival at Kilimanjaro International Airport. Our Transfer guide will meet you and facilitate the transfer to your hotel.
Meals: Half Board
---
Day 02: Serengeti National Park (North)
After breakfast, transfer to Arusha airstrip for your flight to Serengeti North which will depart around 7 am and arrive at 10 am for a game drive in Northern Mara. Serengeti, among other incredible wildlife and stunning views, is famed for the annual migration of over 1.5 million wildebeest and a hundred thousand zebras, a frenzied bout of territorial conquests and mating happening from July-October. Witness an actual survival of the fittest as these animals plunge through crocodile-infested waters. The wildebeest produces more than 8,000 calves daily before the 1,000 km (600 miles) pilgrimage begins again.
Meals: Full Board
---
Day 03: Serengeti North (Kogatende)
After breakfast, we depart for Serengeti North for a game drive viewing the great migration. River crossings at Kogatende start in August as the mega herd settles into the area. Between August- October, game viewing is at its best with river crossings pretty much guaranteed every day. There is no distinct movement as the herds tend to cross back and forth over the river, following the rains and subsequent fresh grasses.
Meals: Full Board

HOT AIR BALLOON PER PERSON COST $585 (prices are separate from the total price above)
---
Day 04: Serengeti North (Kogatende)
After breakfast, we will proceed for a full-day game drive viewing the great migration at the Mara area. Resident wildlife numbers are exceptionally high in the Wagakuria area. The key feature is the Mara River and there is a great chance to see the herds cross the Mara River to the north one day and back south a few days later. Please note that it can be very difficult to witness crossing and is sometimes a matter of luck. A herd can be seen next to the river and only decide to cross a couple of days later. This area is a stunning region with kopjes, woodland, riverine vegetation, and open plains, similar to Kenya's Masai Mara Game Reserve.
Meals: Full Board

---
Day 05: Serengeti National Park (Central Seronera)
After breakfast at the camp, we drive to Serengeti Central, Tanzania's oldest and most popular national park and a world heritage site. The Serengeti is famed for its annual migration, when some six million hooves pound the open plains, as more than 200,000 zebra and 300,000 Thomson's gazelle join the wildebeest's trek for fresh grazing. Yet even when the migration is quiet, the Serengeti offers an amazing game-viewing in Africa: great herds of buffalo, smaller groups of elephant and giraffe, and thousands of elands, Topi, kongoni, impala, and Grant's gazelle.
Meals: Full Board

---
Day 06: Serengeti Central (Central Seronera)
After breakfast, we will have a full-day game drive in Central Serengeti. Apart from the large mammals, Serengeti is also home to gaudy agama lizards; Rock hyraces scuffle around the surfaces of the park's isolated granite koppies. Wide varieties of dung beetle were found, and around 500 bird species have been recorded ranging from the outsized ostrich and bizarre secretary bird of the open grassland to the black eagles that soar effortlessly above the Lobo Hills.
Meals: Full Board
---
Day 07: Serengeti Central (Cental Seronera)
This is another full-day game drive at Serengeti National Park, known for its healthy population of resident wildlife, particularly the "big five", named for the five most prized trophies taken by hunters:
Lion: the Serengeti is believed to hold the largest population of lions in Africa due in part to the abundance of prey species. More than 3,000 lions live in this ecosystem.
African Leopard: these reclusive predators are commonly seen in the Seronera region but are present throughout the national park with a population of around 1,000.
African Elephant: the herds are recovering from population lows in the 1980s caused by poaching and are largely located in the northern regions of the park.
African Buffalo: considered by many to be the most dangerous of the big five, reportedly causing the most hunter deaths, with wounded animals reported to ambush and attack pursuers.
Rhinoceros: this may refer to either black or white rhinoceros. Among big five game hunters, the black rhinoceros is preferred, although it is now critically endangered.
Meals: Full Board
---
Day 08: Ngorongoro Crater Tour
After breakfast, we will have an early morning game drive to Ngorongoro inside the Crater. The Ngorongoro Conservation Area (NCA) is an extensive highland area along the eastern arm of the Rift Valley, with the world-renowned Ngorongoro Crater as its focal point. Ngorongoro was established to conserve wildlife and other natural resources. It also safeguards the interests of indigenous people and promotes tourism.
Meals: Full Board
---
Day 09: Tarangire National Park
Today, we will proceed to Tarangire for a full-day game drive in the park located slightly off the main safari route. Tarangire National Park is a lovely quiet park in Northern Tanzania most famous for its elephant migration and birding safari with a quiet atmosphere.
Meals: Full Board
---
Day 10: Back to Arusha
After breakfast, we head back to Arusha and pass by a shopping market on the way. After which, we will facilitate your transfer to the Airport depending on your schedule for your onward flight.
Price will Include
---
 All Park fees

All activities (unless labeled as optional)
All accommodations as stated in the itinerary
A professional driver/guide
All transportation (unless labeled as optional)
All Meals (as specified in the day-by-day section)
Price Will not Include
---
International flights (from/to home)
Additional accommodation before and at the end of the tour
Tips (tipping guideline US$20.00 pp per day)
Personal items (souvenirs, travel insurance, visa fees, etc.)
Services not mentioned in the program
Travel insurance and medical repatriation
Items of a personal nature
Design your own trip.

We are rated  5/5 on 36 Reviews on TripAdvisor

We are rated 5/5 on  74 Reviews on SafariBookings
Tour ideas to get you dreaming
Featured Tanzania Safari Packages
North Serengeti Migration
8 Days North Serengeti Migration