Great Wildebeest Migration safari across Serengeti National park in Tanzania & Masai Mara Game Reserve in Kenya is the world phenomena & certainly a life time experience. This annual movement of herds involves wildebeest, Zebra & Gazelle. Our 10 days Serengeti Wildebeest Migration safari package & Mara River crossing includes other Northern Tanzania parks of Tarangire, Lake Manyara & the Ngorongoro crater.
Tarangire/Lake Manyara/Serengeti/Ngorongoro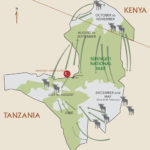 East Africa is not only Africa but a heaven as it has a lot to offer, when it comes to wildlife & nature one does not have to think much rather than point out Tanzania and Kenya. Apart from our published Serengeti Migration safari packages a tailor made package can be designed with best prices to suit your wishes and preferences.
Affordable wildebeest migration safari package can be customized to short safari days and can include Tanzania or Kenya side only depending on where the Wildebeest Migration is packed. Zanzibar beach holidays can easily be combined on request. Safari in Tanzania or Kenya is still of a great experience with or without the presence of  the migration of herds. Just give us your budget and we shall customize a great package for you.
Great Wildebeest Migration Safari
Tanzania Safari Packages
Day 1: Arrival
Distance: 50 km
On arrival at Kilimanjaro international airport meet our representative and transfer to Planet lodge a nice & quiet lodge situated at the suburb of Arusha city. The Lodge offers stunning views of both Mt. Meru and Mt Kilimanjaro. Later our safari manager will come for a safari briefing.
Overnight at Planet Lodge in Arusha. Dinner and breakfast included
Day 2: Arusha – Tarangire National Park
Distance: 130 km
Non game viewing time: 2 to 3 hrs.
After breakfast your Serengeti wildebeest migration safari continue as we take you to Tarangire National Park one of the famous Parks on the northern circuit with a large number of Elephant populations of over 6000. The Park holds a fifth number in size in all Tanzania's National Parks, Large herds of Elephants, Giant Baobab trees and the Tarangire River are the highlighted features of this Park. Tarangire River starting from Kondoa highlands and crossing at the middle of the park is the only permanent source of water in the entire Park. This river flows early around and becoming a refugees point for animals during the dry season.
Animal to be sported are lion, leopard, hyena, cheetah, elephant, giraffe, zebra and many more. For bird watchers this is the paradise over 400 species have been recorded including the endemic species of Ash Stalling. (Picnic lunch will be served inside the park).
Overnight at Sangaiwe Tented Lodge close to the park or Similar. All meals included.
Day 3: Tarangire – Lake Manyara National Park
Distance: 50 km
Non game viewing time: 1 to 2 hrs.
After breakfast, you will drive across the base of the Great Rift Valley to Lake Manyara National Park. Lake Manyara is one of the beautiful parks in Tanzania and is known for its tree climbing lion that spend the day time sleeping on acacia trees. The park has a lot of underground water streams that feeds the Lake and makes the park green throughout the year. Other animal to be seen are Giraffes, Buffaloes, Wildebeests, Zebras, Hippos and Many antelopes, Hyenas and leopards can also be seen. Bird life is rich in this Park for both aquatic and forest birds, flamingos are the main birds dominating the lake feeding on green algae. After game drive we will take you to Country Lodge in Karatu for dinner & overnight.
Overnight at Country Lodge in Karatu or Similar. All meals included.
Day 4: Lake Manyara – Serengeti National Park
After breakfast you will start your way to Serengeti National Park with en route game drives until you reach Naabi Gate. After registration and other park formalities you will start your first game drives in Serengeti. Serengeti is the most amazing place and it is the world's number one wildlife sanctuary. The endless plains of Serengeti are of about 14 763 square kilometers and the plains are accommodating the Migration herds estimated to be of over 1.5 million of wildebeests, Zebras and Thomson gazelle.
From the months of December and March the herds are on the Southern Serengeti at around Lake Ndutu and Salei plains where breeding and nursing takes place. July & August we expect them to be on Northern Serengeti start crossing Mara River on their way to Masai Mara in Kenya. The Great Migration attracts the attention of predators like Hyenas, Leopard, Lions, Jackals and others, birds of prey are also involving in this movement. Serengeti Kopjes (Rock outcropping) which looks like an island in a sea of grass is a shelter for some animals and plant species.
A visit to Olduvai Gorge Museum or Masai Boma can be done on this day at (extra cost of $30 per group for Masai village & $36 per person for Olduvai Gorge)
Overnight at Serengeti Acacia Camp Central Serengeti or Similar. All meals included.
Day 5: Central Serengeti – North Serengeti at Mara River
After breakfast, start early & spend some time at central Serengeti before heading to the North with en-route game drives. If time permit you will go to the River to see if there is any crossing.
Overnight at Serengeti Acacia Camp Kogatende Northern Serengeti or Similar. All meals included.
Day 6 & 7: Full Day Game Drives at Northern Serengeti
Spend the precious 2 days on Northern Serengeti following the migration & the crossing. You may start as early as you wish 06:30 is the sun rise. An early Morning game drive allows you to see some predators coming back from their long night of hunting and other animals coming out from their hiding place or a group of lioness organizing an ambush or eating along the road.
Overnight at Serengeti Acacia Camp Kogatende Northern Serengeti or Similar. All meals included.
Day 8: Serengeti – Ngorongoro Conservation Area
This day of your annual Wildebeest Migration Safari after breakfast start your game drive all the way to the Central Serengeti before departing for Ngorongoro Conservation Area with en route game, arrival at Rhino lodge before or during the sunset.
Overnight at Ngorongoro Rhino Lodge at the crater rim or Similar in Karatu . All meals included
Day 9: Ngorongoro Crater – Lake Eyasi
This day after breakfast, we take you down to the Crater floor for a wonderful game drive (packed lunch will be served in the Crater floor). Ngorongoro Crater has been described by many as a nature wonder of the world. This place has been called mistakenly a Crater but it is rather a largest intact volcanic Caldera with a high wall of about 600 m and a width of 300 m. The caldera is home to a good number of animal species living harmoniously with Maasai cattle that descent into the Crater floor for grassing and drinking.
The crater is among the very few places in this world where the rare Black Rhino are living in their natural habitat. Among others animals like elephant, zebra, buffalo, hyena, Jackals, lion, leopard and many antelopes can be seen walking around the crater floor. Many bird species are also inhabit the Crater. Late afternoon drive to Lake Eyasi the place for bushman.
Overnight at Lake Eyasi Safari Lodge close to the Lake. All meals included
Day 10: Activities at Lake Eyasi – Arusha
This day you will wake up early & go hunting with bushman," the Hadzabe Tribe" the hunting will  include a tuition on survival skills. The Hadzabe is one among three groups of bushman lives in hunting with bow & arrows including gathering of fruits, roots & tubers just as much as humankind lived in Stone Age. You will have chance of looking on how they continue to survival, their adaptation to this harsh environment & challenges facing this nomadic people.
The second group is of Datoga "The Blacksmiths" and trade developer over centuries & still practiced it same way just as before. They make arrow heads for Hadzabe as well as brass trinkets, some are available for sale. Late afternoon drive back to Arusha for overnight or drop off at the Airport (Please let us know if you will want us to include your accommodation in Arusha on this day).
A breathtaking Wildebeest Migration safari is unforgettable lifetime experience. The Migration of herds and Mara River crossing is unique and certainly unpredictable as we have recently experience back and forth movement of the herds due to irregular weather, so as ground handling we have many ways of knowing where the migration is parked, we don't relay on calendar.
All accommodation subjected to availability
Great Serengeti Migration Safari –  Prices is on request
FILL THE FORM
Book this tour